My Nan (Bless) had a bathroom in her flat that dated back to the 1930's and had she not passed away, I recon her bathroom would still be in use today.. 90 years after it was installed!. And yet many bathrooms today last less than 10-years before things start going wrong and replacement is needed. 
With more and more landlords upping their interior design game, I am seeing some really big mistakes being made when it comes to bathroom and en-suite design that will inevitably mean costly maintenance and a very short lifespan. 
For rental properties it is especially important that a bathroom or en-suite lasts the test of time, so here are the big design mistakes I see people make when it comes to bathroom design and how to avoid them:
1: Using back taps and accessories – Ok so who doesn't like black bathroom taps? they look so cool right? yea, for about 10-minutes!
Black bath taps and shower screens require more sensitive cleaning as they become marked and stained from soap scum and limescale. And boy do they show the dirt! Avoid at all costs if you want your rental property bathrooms to look good for longer.
2: Vanity units – For someone who advocates storage as much as possible, most vanity units and water just don't mix. Unfortunately the rise of cheap furniture means that the build quality of these items is generally not up to scratch. Most have MDF cores and a laminate outer layer. Any star edges become traps for water, which, after a few months, will seep into the MDF core. Once damp the MDF core starts to swell and the unit degrades. Not advisable for rental properties at all. If you want a vanity unit in your home, make sure its not made with an MDF core. 
3: Hidden pipework toilets: Some modern close coupled toilets hide the pipework at the back of the cistern. Big problem if you need to change a toilet seat or if you need to disconnect the water supply when parts fail (which they invariably do). This is a mistake I made a few years back… trust me, total nightmare.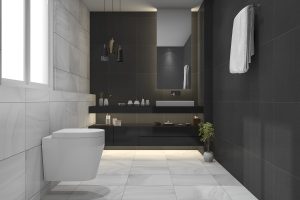 4: Tiling in the bath: Ok, so not many people do this, but please don't. Bath taps often get loose over time, and mechanical bath plugs also break over time, so at some point you are going to need to get under the bath to make repairs. If you have tiled in your bath, you will need to do damage to gain access. Also water tends to pool on flat surfaces, this quickly leaves hard to remove darl mould patches on the grout and sealant.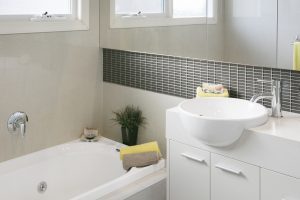 5: Cheap shower screens & enclosures: Shower enclosures come in all shapes and sizes, however do not scrimp on these items. Choose designs that are uncomplicated (wheeled doors are a no-no as the wheels degrade over time) 6mm glass panels and doors are a no no as they are less sturdy and leak far more easily than the tougher 9mm variants. 
6: Not planning on damages or missing parts. When a bathroom arrives on a building site, it can very easily get damaged and while it's vital that your tradesmen get the materials on -time, it's also important that things don't just sit lying around, as damages will occur. By the time someone realises a cistern has a crack in it, your plumber may not be able to return for weeks after a replacement arrives. Same goes for missing parts. Everyone is in such a hurry nowadays that small details get overlooked. Like the connector grommet for the sink waste. One tiny piece of rubber that costs less than 1p can hold up an entire bathroom install. 
7: Switching things unnecessarily: One of the most annoying thing someone can do to a contractor is say: 'Oh, it's only a small job but can you just move the toilet from there to there?' Moving soil pipes and waste pipes can be a right pain as you need to be careful when channelling though floor joists. it's also very time consuming. Even architects (bless em) seem to have no concept of the absolute pain in the backside moving a bathroom or adding an en-suite from one side of a house to another so that it's miles away from the soil stack (and the property has concrete floors). 
8: Boxing in pipework using MDF panels. it's a quick solution that a builder will know won't last long, but what do they care, they will be long gone before water mashes things up. And more fool you if you don't specify things properly. MDF and water do not mix… period. 
9: Bath tap positioning. This doesn't effect rental properties so much, but when you specify a bath, it may be lovely to have taps located at the middle against the back wall, but you wait till you need to tighten taps or you climb out the bath one day, slip and require medical treatment for a tap up the ass, or a back that's been ripped to shreds because you climbed out the wrong way. Bloody dangerous.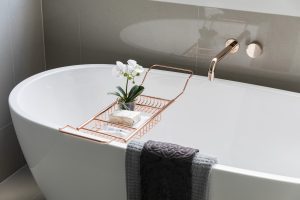 12: lazy layouts in small spaces: When it comes to a practical space like a bathroom, function has to come before form, especially in a small bathroom. Make sure you allow enough space between sanitary-ware so people can move around and sit or stand comfortably – for example, there should be at least 60cm between the toilet and anything that's in front of it. Towel rails should be fitted within easy grabbing distance of the bath or shower and cupboard and shower doors need to open without obstruction.
11: Not shopping around and using trade discounts. Ok, so next time you walk into a plumbers merchants don't look like a tourist. Wear work clothes, act like a developer and ask for a trade discount, you'll be surprised at how easy it can be to negotiate substantial discounts. 
12: Dismissing privacy: If you place a shower or bath in front of a window, even if its frosted, when its dark outside and you climb out of the bath naked… you neighbours will get a beautiful view… 
13: Ditching the bath: We all know that most people take showers nowadays, but to remove a bath from a residential property is a huge mistake when it comes to re-selling. There are also times when we all love to have a nice soak in a bath or when you have a dog/cat/kid and a shower is not the right solution. 
14: Mis-measuring a bath. Baths come in all shapes and sizes, so make sure you check you get the right size before ordering one. 
15: Forgetting to future-proof. A lot of bathroom appliances nowadays come with parts that need replacing. Shower door seals, toilet flush mechanisms, shower wastes, taps, they can all fail. Extra planning is a must if you want your bathroom to be serviceable as time passes. just buying blind without checking how easy it is to replace parts will significantly reduce the lifespan of your bathroom or en-suite. 
16: Poor ventilation: A bathroom generates a great deal of moisture, which forms as condensation on cold walls in winter… (You know all those tenants who complain about damp behind their beds and wardrobes? it's usually down to poor bathroom ventilation). Invest in a good extractor, especially if you are fitting internally-suites. 
17: Forgetting the finishing touches: is there somewhere to hang your towel, a place to put your shower gel, somewhere for the soap, a place for all the moisturisers and creams ladies seem to like inviting in? is there a waste bin? Don't scrimp on these items as cheap shower accessories rust… quickly. 
18: Insufficient heating: If you have a large bathroom and have only fitted a small towel rail…oh boy are you going to get some serious condensation problems. 
19: Using small tiles that need tons of grout: let me just say one word to out you off making this big boo boo. LEAK!!!!! … I'll say it one more time…. L E A K !!!
20: Using incompatible fittings: I'm sure we'd all fancy a lovely rainfall shower in a bathroom, but is your heating system or water flow up to the challenge? With so many investors wanting to put en-suiters in every room, making sure you have enough water pressure or the right bathroom appliances for the job is essential. Always work with your plumber or heating engineer when choosing bathroom stuff. 
21: Choosing porous paint. When painting a bathroom you need to think about a finish that can handle a hot and steamy environment. Look for moisture resistant paint or versions designed specifically for bathrooms.
Thanks for reading. 
Bonus tip from legendary product designer 'Dieter Rams' – (1932-2020)
Good design is long-lasting
"It avoids being fashionable and therefore never appears antiquated. Unlike fashionable design, it lasts many years – even in today's throwaway society."
The takeaway:
Designing for the sake of fashion is a dangerous and generally unhelpful thing. What is fashionable today will at best be unfashionable tomorrow, and at worst, a piece of comedy in ten years.