We all know that walking into a house painted all cream, beige or grey with landlord furniture installed is as exciting as eating a week old Octopus salad with no dressing (YUK) (BLUURRRRGGG) whereas walking into a sophisticated neutral interior with pops of colour makes our hearts swoon and our buying decision senses go crazy…
As an interior designer my job is to increase the value of a project, and one of the simplest and cheapest way to do that is by using colour, so let's take a look at some really neat feature wall techniques that will make your property projects really stand out.
First off let me share a quote.
"An Interior Designer is a Building Contractor's worst nightmare"…
yup, that's because for the most part, builders aren't really interested in creating interiors that promote wellbeing or make someone feel special, they like to do things their way, and on to the next project. It's not the builders fault, as ultimately it's not their job to design an interior. QS's (Quantity Surveyors) are the opposite of Interior Designers, when they evaluate a project they assume you want a blank canvas. Architects too, they won't apply any interior design know how into their drawings unless you pay them a fortune, or you give them a pretty detailed brief. So its important to explain to your builder/QS from the outset what you are intending to do, otherwise they will just freak out. Providing the correct resources to the contractor so that they can accurately price up the work is a vital skill any designer must learn, otherwise you just end up paying a fortune for Architects, PM's, QS's, M&E consultants, CDM co-ordinators, Utilities Consultants, Property Courses and all you will have to show for it is a bland, basic product. It's the job of the Interior Design to create the Yummyness, no one else will put in the time or the effort on all the little details that mean so much to the customer.
When it comes to decorating techniques, a builder, decorator, for most of their working lives have painted interiors in the same way, walls one colour, woodwork white. Why? simply because that's how they've always done it. If you ask them to do the decor any other way you'll probably get some resistance, so be prepared to show them photos and a decor plan.
So the first technique you need to consider when painting feature walls is THE ONE COLOUR TECHNIQUE> Visit any high-end hotel and you will notice that whoever designed the interior, they told the decorator to paint the woodwork the same colour as the walls… Why is this you may ask… Well according to Farrow and Ball (the famous paint makers) "There is great historic precedent for using one colour on both walls and woodwork and it is also popular in contemporary settings as it creates a strong, clean look. It generates a sense of calm in a room, as well as exaggerating its size, as there are no contrasts to draw the eye". Generates as sense of calm huh? well then, it looks like painting the woodwork the same colour as walls has a positive effect on wellbeing… fancy that.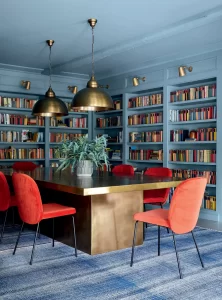 So, if you are going to paint feature walls, first thing you need to remember is… The One Colour technique
"So what wall do I choose as feature wall?" I hear you say… The answer is fairly simple and the clue is in the name. A feature wall is generally used to highlight a rooms focal point. In a bedroom the feature wall should usually be behind the bed, or if the bedroom window has a particularly nice view, a dark feature wall will transform the window and view into an amazing feature. In a living room, the fireplace or TV might be a feature, or the seating area perhaps. In an office the desk area or seating area might be the focal point…you decide.
On top of that feature walls needn't be walls, they could be ceilings, or architectural features that you may want to pick out. Just remember the one-colour technique. So if a window wall is used as a feature wall, then curtains or blinds should be matching.
Choose the paint or the fabric first? May I recommend you walk into your local Homebase, go to the paint counter and ask them for a tin of orange paint. You will be pointed towards the colour mixing wall where you will find 100's of different orange hues. if you visit Blinds2Go, choose your blinds and select the Orange tab, you'll see around 4 orange options… So pick your fabric first, then the paint colour.
As a final note. This stuff isn't just for fun, Differentiation sells product and studies have shown that colour is one of the biggest influences on the buying decision. Design and colour is business, it sells product and increases its value.
As always, I like to give you some inspiration, so please take a look at some exciting feature wall images to wetten your creative juices.
FYI If you're looking for any design support for your projects and want to make them stand out from the crowd, why not give me a shout.